About Us
Taal Indian Kitchen is a Indian takeaway in Walderslade. Why don't you try our Curry or Garlic Chicken?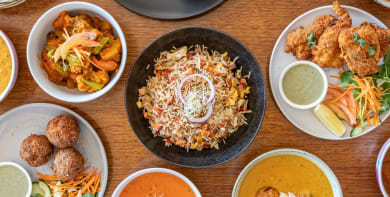 Reviews
642 reviews
Emily
"I order from this restaurant as it is quick and easy. The food is decent and it always arrives before stated"
01/12/2020
emma
"great food, will definitely order again"
01/12/2020
Matthew
"Won't mark down as food is always great. But they didn't bring my drink which ruins it a little"
30/11/2020
Tracy
"Always lovely food and polite delivery man 😊"
28/11/2020
Menu
Mr. Naga Pickle
Flaming hot
£1.50
Rogan Chicken
Medium, dry curry cooked with garlic & tomato
Medium
£5.95
Rogan Lamb
Medium, dry curry cooked with garlic & tomato
Medium
£6.50
Rogan Prawn
Medium, dry curry cooked with garlic & tomato
Medium
£6.50
Rogan Vegetable
Medium, dry curry cooked with garlic & tomato
Medium
£5.15
Rogan King Prawn
Medium, dry curry cooked with garlic & tomato
Medium
£10.15
Rogan Chicken Tikka
Medium, dry curry cooked with garlic & tomato
Medium
£6.50
Rogan Lamb Tikka
Medium, dry curry cooked with garlic & tomato
Medium
£5.95
Shampan Curry Chicken
Cooked with fenugreek, sun-dried tomato & lightly spiced with fresh herbs
Medium
£5.75
Shampan Curry Lamb
Cooked with fenugreek, sun-dried tomato & lightly spiced with fresh herbs
Medium
£5.95
Shampan Curry Prawn
Cooked with fenugreek, sun-dried tomato & lightly spiced with fresh herbs
Medium
£5.95
Shampan Curry Vegetable
Cooked with fenugreek, sun-dried tomato & lightly spiced with fresh herbs
Medium
£5.15
Shampan Curry King Prawn
Cooked with fenugreek, sun-dried tomato & lightly spiced with fresh herbs
Medium
£10.15
Shampan Curry Chicken Tikka
Cooked with fenugreek, sun-dried tomato & lightly spiced with fresh herbs
Medium
£6.95
Naga Chilli Curry Chicken
Very hot curry with green chillies & pickle
Flaming hot
£5.95
Naga Chilli Curry Lamb
Very hot curry with green chillies & pickle
Flaming hot
£5.95
Naga Chilli Curry Prawn
Very hot curry with green chillies & pickle
Flaming hot
£6.95
Naga Chilli Curry King Prawn Jalfrezi
Very hot curry with green chillies & pickle
Flaming hot
£9.95
Naga Chilli Curry Tandoori Chicken Jalfrezi
Very hot curry with green chillies & pickle
Flaming hot
£5.95
Kids Drink - Capri Sun Orange
£0.65
Murali Chicken
Cooked in garam masala, lightly spiced & garnished with fresh coriander & ginger
£5.95
Murali Lamb
Cooked in garam masala, lightly spiced & garnished with fresh coriander & ginger
£5.95
Murali Prawn
Cooked in garam masala, lightly spiced & garnished with fresh coriander & ginger
£5.95
Achari Chicken
With pickle
£5.95
Rajasthan Chicken
With tamarind
£5.95
Rajasthan Lamb
With tamarind
£5.95
South Indian Fish Curry
Off the bone
£9.95
Chicken Rezala
Rezala cooked with mince lamb, yoghurt, pickle, fresh herbs & mixed Indian spice
£6.95
Bakara Chicken
Cooked in tikka with garam masala, garlic ginger, medium spiced with fresh herbs & tomatoes
£6.95
Bakara Lamb
Cooked in tikka with garam masala, garlic ginger, medium spiced with fresh herbs & tomatoes
£6.95
Althabano
Prawns, cooked with spinach, mushrooms, lightly spiced & garlic flavoured
£6.95
Maljura Chicken
Tender pieces of lamb / chicken cooked with potato, green chilli & coconut based sauce
Hot
£5.95
Maljura Lamb
Tender pieces of lamb / chicken cooked with potato, green chilli & coconut based sauce
Hot
£5.95
Kofta Meat
Meatballs cooked with garlic, coriander & special Indian spice, tomato based flavour
Medium
£5.95
Kofta Vegetable
Meatballs cooked with garlic, coriander & special Indian spice, tomato based flavour
Medium
£5.95
Jeera Chicken
Cooked with roasted cumin seed & curry leaves, lightly spiced with fresh herbs & garam masala
£5.95
Jeera Lamb
Cooked with roasted cumin seed & curry leaves, lightly spiced with fresh herbs & garam masala
£5.95
Murgh Masala
Pieces of chicken cooked with mince lamb, herbs, spice, garlic & ginger
Bengali style cooking
Medium
£5.95
Tofan Paneer Masala
Pieces of cheese cooked in tandoori oven, mild & creamy masala sauce base
£5.95
Dansak Vegetable
Hot, sweet & sour with lentils, served with pilau rice
£7.95
Dansak Chicken
Hot, sweet & sour with lentils, served with pilau rice
£7.95
Dansak Lamb
Hot, sweet & sour with lentils, served with pilau rice
£7.95
Dansak Chicken Tikka
Hot, sweet & sour with lentils, served with pilau rice
£7.95
Dansak Lamb Tikka
Hot, sweet & sour with lentils, served with pilau rice
£7.95
Dansak Prawn
Hot, sweet & sour with lentils, served with pilau rice
£7.95
Dansak King Prawn
Hot, sweet & sour with lentils, served with pilau rice
£10.95
Kashmir Chicken
Mild, creamy curry cooked with pineapple
£5.50
Kashmir Lamb
Mild, creamy curry cooked with pineapple
£5.95
Kashmir Prawn
Mild, creamy curry cooked with pineapple
£5.75
Kashmir Vegetable
Mild, creamy curry cooked with pineapple
£5.25
Kashmir King Prawn
Mild, creamy curry cooked with pineapple
£10.15
Kashmir Chicken Tikka
Mild, creamy curry cooked with pineapple
£6.95
Kashmir Lamb Tikka
Mild, creamy curry cooked with pineapple
£7.25
Kashmir Tandoori Chicken
Mild, creamy curry cooked with pineapple
£7.25
Chicken Tikka Masala
Contains nuts
£6.25
Butter Chicken
Contains nuts
£6.25
Chicken Makhani
Contains nuts
£6.25
Mango Chicken
Contains nuts
£6.95
Modhu Chicken
With honey
Contains nuts
£6.95
Modhu Lamb
With honey
Contains nuts
£6.95
Pasanda Chicken
Contains nuts
£6.25
Pasanda Lamb
Contains nuts
£6.25
Tandoori King Prawn Masala
Contains nuts
£11.95
Chicken Chilli Masala
Contains nuts
£6.50
Tandoori Chicken Tikka Main
£5.95
Tandoori Chicken Main Full
£9.95
Tandoori Chicken Main Half
£4.95
Tandoori Seekh Kebab Main
£5.95
Tandoori Chicken Shashlik
£8.95
Taal Special Meal A For One
Meat Taal (Thali)
Tandoori chicken starter, chicken korma, vegetable curry, pilau rice & naan bread
£14.95
Taal Special Meal B For One
Vegetable Taal (Thali)
Onion bhaji, bombay potato, vegetable curry, mushrooms rice & garlic naan bread
£12.95
Taal Special Meal D For Two
Chicken bhuna, lamb korma, mushroom bhaji, 2 pilau rice & naan bread
£19.95
Taal Special Meal E For Two
Meat samosa, onion bhaji, chicken jalfrezi, chicken tikka masala, bombay potato, coconut rice, mushroom rice & garlic naan bread
£24.95
Taal Special Meal For Four
2 Chicken tikka, 2 meat samosa starter, chicken bhuna, chicken tikka masala, garlic chicken, lamb jalfrezi, bombay aloo, vegetable curry, 2 pilau rice & 2 naan bread
£39.95
Taal Special Meal C For One
Kitchen Special Taal (Thali)
Chicken tikka masala, saag aloo, pilau rice & keema naan bread
£13.95
Betia Ghost (Medium)
Tender pieces of lamb cooked with fried Aubergine with Indian style spice, garam masala, fresh coriander, tomatoes & peppers
£6.95
Dola Dola (Hot)
Lamb tikka & minced lamb cooked with red pepper, green peas, naga chilli sauce with a ginger flower
£7.95
Suna Tolah (Medium Hot)
Chicken tikka cooked with mushrooms, Fenugreek & curry leaves, fresh green chillies, tomatoes, onions & coriander (sauce based dish)
£7.95
Golda Pukor (Medium)
3 hole king prawns cooked in medium bhuna sauce
£9.95
Kitchen Mixed Starter
Chicken, lamb tikka, seekh kebab & onion bhaji
£5.95
Kebab Roll (Naan) Chicken Tikka
£3.25
Quarter Tandoori Chicken Starter
£2.95
Begun Chana
Aubergine & chickpeas
£2.95
Saag Paneer
Contains nuts
£3.95
Madras Tandoori Chicken
Hot
£5.95
Madras Keema (Minced Lamb)
Hot
£5.95
Vindaloo Chicken
Very hot
£5.95
Vindaloo Vegetable
Very hot
£4.95
Vindaloo King Prawn
Very hot
£9.95
Vindaloo Chicken Tikka
Very hot
£5.95
Vindaloo Lamb Tikka
Very hot
£5.95
Vindaloo Tandoori Chicken
Very hot
£5.95
Vindaloo Keema (Minced Lamb)
Very hot
£5.95
Bhuna Chicken
Cooked with onions, green peppers, tomato, medium spiced & fresh coriander
Medium
£5.95
Bhuna Lamb
Cooked with onions, green peppers, tomato, medium spiced & fresh coriander
Medium
£5.95
Bhuna Prawn
Cooked with onions, green peppers, tomato, medium spiced & fresh coriander
Medium
£5.95
Bhuna Vegetable
Cooked with onions, green peppers, tomato, medium spiced & fresh coriander
Medium
£5.45
Bhuna King Prawn
Cooked with onions, green peppers, tomato, medium spiced & fresh coriander
Medium
£9.95
Bhuna Chicken Tikka
Cooked with onions, green peppers, tomato, medium spiced & fresh coriander
Medium
£6.25
Bhuna Lamb Tikka
Cooked with onions, green peppers, tomato, medium spiced & fresh coriander
Medium
£6.25
Bhuna Tandoori Chicken (Hot)
Cooked with onions, green peppers, tomato, medium spiced & fresh coriander
Medium
£6.25
Bhuna Fish (Boneless)
Cooked with onions, green peppers, tomato, medium spiced & fresh coriander
Medium
£9.95
Saag Chicken
With spinach
£5.95
Saag King Prawn
With spinach
£9.95
Saag Vegetable
With spinach
£4.95
Saag Chicken Tikka
With spinach
£6.95
Saag Lamb Tikka
With spinach
£6.95
Balti Vegetable
All dishes are served with naan bread
£6.95
Balti Chicken
All dishes are served with naan bread
£7.95
Balti Prawn
All dishes are served with naan bread
£7.95
Balti Lamb
All dishes are served with naan bread
£8.95
Balti Chicken Tikka
All dishes are served with naan bread
£9.95
Balti Lamb Tikka
All dishes are served with naan bread
£9.95
Balti King Prawn
All dishes are served with naan bread
£10.95
Balti Taal Mix
All dishes are served with naan bread
£10.95
Aloo Paratha
Spicy hot with garlic
£2.95
Garlic Rice
Contains nuts
£2.65
Coconut Rice
Contains nuts
£2.65
Ceylon Chicken
Cooked with chilli, coconut powder & thick sauce
£6.25
Ceylon Lamb
Cooked with chilli, coconut powder & thick sauce
£6.95
Ceylon Prawn
Cooked with chilli, coconut powder & thick sauce
£6.95
Ceylon Vegetable
Cooked with chilli, coconut powder & thick sauce
£5.50
Ceylon King Prawn
Cooked with chilli, coconut powder & thick sauce
£9.95
Ceylon Chicken Tikka
Cooked with chilli, coconut powder & thick sauce
£7.95
Ceylon Lamb Tikka
Cooked with chilli, coconut powder & thick sauce
£7.95
Korma Chicken
Mild creamy sauce
Contains nuts
£5.95
Korma Lamb
Mild creamy sauce
Contains nuts
£5.95
Korma Prawn
Mild creamy sauce
Contains nuts
£5.95
Korma Vegetable
Mild creamy sauce
Contains nuts
£5.15
Korma King Prawn
Mild creamy sauce
Contains nuts
£10.15
Korma Chicken Tikka
Mild creamy sauce
Contains nuts
£6.95
Korma Tandoori Chicken
Mild creamy sauce
Contains nuts
£5.95
Pathia Vegetable
Hot, sweet & sour, served with a naan bread
Indian & Chinese fusion curry
£6.95
Pathia Chicken
Hot, sweet & sour, served with a naan bread
Indian & Chinese fusion curry
£7.95
Pathia Prawn
Hot, sweet & sour, served with a naan bread
Indian & Chinese fusion curry
£7.95
Pathia Lamb
Hot, sweet & sour, served with a naan bread
Indian & Chinese fusion curry
£7.95
Pathia Chicken Tikka
Hot, sweet & sour, served with a naan bread
Indian & Chinese fusion curry
£7.95
Pathia Lamb Tikka
Hot, sweet & sour, served with a naan bread
Indian & Chinese fusion curry
£7.95
Pathia King Prawn
Hot, sweet & sour, served with a naan bread
Indian & Chinese fusion curry
£9.95
Contact Us
Find Us
58 Silverweed Road, Walderslade, ME50QX
We deliver to
ME1, ME4, ME5, ME7, ME8