About Us
Taal Indian Kitchen is a Indian takeaway in Walderslade. Why don't you try our Curry or Garlic Chicken?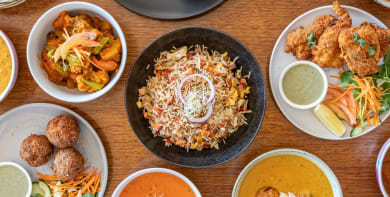 Reviews
569 reviews
Joanna
"Prompt courteous delivery. Excellent food and generous portions."
08/08/2020
Doreen
"Food piping hot and delicious, very good value, polite delivery man"
07/08/2020
Patrick
"Always brilliant"
05/08/2020
Louise
"Really enjoyed the food and good quality too"
03/08/2020
Menu
Rogan Chicken
Medium, dry curry cooked with garlic & tomato
Medium
£5.95
Rogan Lamb
Medium, dry curry cooked with garlic & tomato
Medium
£6.50
Rogan Prawn
Medium, dry curry cooked with garlic & tomato
Medium
£6.50
Rogan Vegetable
Medium, dry curry cooked with garlic & tomato
Medium
£5.15
Rogan King Prawn
Medium, dry curry cooked with garlic & tomato
Medium
£10.15
Rogan Chicken Tikka
Medium, dry curry cooked with garlic & tomato
Medium
£6.50
Rogan Lamb Tikka
Medium, dry curry cooked with garlic & tomato
Medium
£5.95
Shampan Curry Chicken
Cooked with fenugreek, sun-dried tomato & lightly spiced with fresh herbs
Medium
£5.75
Shampan Curry Lamb
Cooked with fenugreek, sun-dried tomato & lightly spiced with fresh herbs
Medium
£5.95
Shampan Curry Prawn
Cooked with fenugreek, sun-dried tomato & lightly spiced with fresh herbs
Medium
£5.95
Shampan Curry Vegetable
Cooked with fenugreek, sun-dried tomato & lightly spiced with fresh herbs
Medium
£5.15
Shampan Curry King Prawn
Cooked with fenugreek, sun-dried tomato & lightly spiced with fresh herbs
Medium
£10.15
Shampan Curry Chicken Tikka
Cooked with fenugreek, sun-dried tomato & lightly spiced with fresh herbs
Medium
£6.95
Naga Chilli Curry Chicken
Very hot curry with green chillies & pickle
Flaming hot
£5.95
Naga Chilli Curry Lamb
Very hot curry with green chillies & pickle
Flaming hot
£5.95
Naga Chilli Curry Prawn
Very hot curry with green chillies & pickle
Flaming hot
£6.95
Naga Chilli Curry King Prawn Jalfrezi
Very hot curry with green chillies & pickle
Flaming hot
£9.95
Naga Chilli Curry Tandoori Chicken Jalfrezi
Very hot curry with green chillies & pickle
Flaming hot
£5.95
Kids Drink - Capri Sun Orange
£0.65
Murali Chicken
Cooked in garam masala, lightly spiced & garnished with fresh coriander & ginger
£5.95
Murali Lamb
Cooked in garam masala, lightly spiced & garnished with fresh coriander & ginger
£5.95
Murali Prawn
Cooked in garam masala, lightly spiced & garnished with fresh coriander & ginger
£5.95
Achari Chicken
With pickle
£5.95
Rajasthan Chicken
With tamarind
£5.95
Rajasthan Lamb
With tamarind
£5.95
South Indian Fish Curry
Off the bone
£9.95
Chicken Rezala
Rezala cooked with mince lamb, yoghurt, pickle, fresh herbs & mixed Indian spice
£6.95
Bakara Chicken
Cooked in tikka with garam masala, garlic ginger, medium spiced with fresh herbs & tomatoes
£6.95
Bakara Lamb
Cooked in tikka with garam masala, garlic ginger, medium spiced with fresh herbs & tomatoes
£6.95
Althabano
Prawns, cooked with spinach, mushrooms, lightly spiced & garlic flavoured
£6.95
Maljura Chicken
Tender pieces of lamb / chicken cooked with potato, green chilli & coconut based sauce
Hot
£5.95
Maljura Lamb
Tender pieces of lamb / chicken cooked with potato, green chilli & coconut based sauce
Hot
£5.95
Kofta Meat
Meatballs cooked with garlic, coriander & special Indian spice, tomato based flavour
Medium
£5.95
Kofta Vegetable
Meatballs cooked with garlic, coriander & special Indian spice, tomato based flavour
Medium
£5.95
Jeera Chicken
Cooked with roasted cumin seed & curry leaves, lightly spiced with fresh herbs & garam masala
£5.95
Jeera Lamb
Cooked with roasted cumin seed & curry leaves, lightly spiced with fresh herbs & garam masala
£5.95
Murgh Masala
Pieces of chicken cooked with mince lamb, herbs, spice, garlic & ginger
Bengali style cooking
Medium
£5.95
Tofan Paneer Masala
Pieces of cheese cooked in tandoori oven, mild & creamy masala sauce base
£5.95
Dansak Vegetable
Hot, sweet & sour with lentils, served with pilau rice
£7.95
Dansak Chicken
Hot, sweet & sour with lentils, served with pilau rice
£7.95
Dansak Lamb
Hot, sweet & sour with lentils, served with pilau rice
£7.95
Dansak Chicken Tikka
Hot, sweet & sour with lentils, served with pilau rice
£7.95
Dansak Lamb Tikka
Hot, sweet & sour with lentils, served with pilau rice
£7.95
Dansak Prawn
Hot, sweet & sour with lentils, served with pilau rice
£7.95
Dansak King Prawn
Hot, sweet & sour with lentils, served with pilau rice
£10.95
Kashmir Chicken
Mild, creamy curry cooked with pineapple
£5.50
Kashmir Lamb
Mild, creamy curry cooked with pineapple
£5.95
Kashmir Prawn
Mild, creamy curry cooked with pineapple
£5.75
Kashmir Vegetable
Mild, creamy curry cooked with pineapple
£5.25
Kashmir King Prawn
Mild, creamy curry cooked with pineapple
£10.15
Kashmir Chicken Tikka
Mild, creamy curry cooked with pineapple
£6.95
Kashmir Lamb Tikka
Mild, creamy curry cooked with pineapple
£7.25
Kashmir Tandoori Chicken
Mild, creamy curry cooked with pineapple
£7.25
Chicken Tikka Masala
Contains nuts
£6.25
Butter Chicken
Contains nuts
£6.25
Chicken Makhani
Contains nuts
£6.25
Mango Chicken
Contains nuts
£6.95
Modhu Chicken
With honey
Contains nuts
£6.95
Modhu Lamb
With honey
Contains nuts
£6.95
Pasanda Chicken
Contains nuts
£6.25
Pasanda Lamb
Contains nuts
£6.25
Tandoori King Prawn Masala
Contains nuts
£11.95
Chicken Chilli Masala
Contains nuts
£6.50
Tandoori Chicken Tikka Main
£5.95
Tandoori Chicken Main Full
£9.95
Tandoori Chicken Main Half
£4.95
Tandoori Seekh Kebab Main
£5.95
Tandoori Chicken Shashlik
£8.95
Taal Special Meal A For One
Meat Taal (Thali)
Tandoori chicken starter, chicken korma, vegetable curry, pilau rice & naan bread
£14.95
Taal Special Meal B For One
Vegetable Taal (Thali)
Onion bhaji, bombay potato, vegetable curry, mushrooms rice & garlic naan bread
£12.95
Taal Special Meal D For Two
Chicken bhuna, lamb korma, mushroom bhaji, 2 pilau rice & naan bread
£19.95
Taal Special Meal E For Two
Meat samosa, onion bhaji, chicken jalfrezi, chicken tikka masala, bombay potato, coconut rice, mushroom rice & garlic naan bread
£24.95
Taal Special Meal For Four
2 Chicken tikka, 2 meat samosa starter, chicken bhuna, chicken tikka masala, garlic chicken, lamb jalfrezi, bombay aloo, vegetable curry, 2 pilau rice & 2 naan bread
£39.95
Taal Special Meal C For One
Kitchen Special Taal (Thali)
Chicken tikka masala, saag aloo, pilau rice & keema naan bread
£13.95
Betia Ghost (Medium)
Tender pieces of lamb cooked with fried Aubergine with Indian style spice, garam masala, fresh coriander, tomatoes & peppers
£6.95
Dola Dola (Hot)
Lamb tikka & minced lamb cooked with red pepper, green peas, naga chilli sauce with a ginger flower
£7.95
Suna Tolah (Medium Hot)
Chicken tikka cooked with mushrooms, Fenugreek & curry leaves, fresh green chillies, tomatoes, onions & coriander (sauce based dish)
£7.95
Golda Pukor (Medium)
3 hole king prawns cooked in medium bhuna sauce
£9.95
Kitchen Mixed Starter
Chicken, lamb tikka, seekh kebab & onion bhaji
£5.95
Kebab Roll (Naan) Chicken Tikka
£3.25
Quarter Tandoori Chicken Starter
£2.95
Begun Chana
Aubergine & chickpeas
£2.95
Saag Paneer
Contains nuts
£3.95
Mr. Naga Pickle
Flaming hot
£0.95
Madras Tandoori Chicken
Hot
£5.95
Madras Keema (Minced Lamb)
Hot
£5.95
Vindaloo Chicken
Very hot
£5.95
Vindaloo Vegetable
Very hot
£4.95
Vindaloo King Prawn
Very hot
£9.95
Vindaloo Chicken Tikka
Very hot
£5.95
Vindaloo Lamb Tikka
Very hot
£5.95
Vindaloo Tandoori Chicken
Very hot
£5.95
Vindaloo Keema (Minced Lamb)
Very hot
£5.95
Bhuna Chicken
Cooked with onions, green peppers, tomato, medium spiced & fresh coriander
Medium
£5.95
Bhuna Lamb
Cooked with onions, green peppers, tomato, medium spiced & fresh coriander
Medium
£5.95
Bhuna Prawn
Cooked with onions, green peppers, tomato, medium spiced & fresh coriander
Medium
£5.95
Bhuna Vegetable
Cooked with onions, green peppers, tomato, medium spiced & fresh coriander
Medium
£5.45
Bhuna King Prawn
Cooked with onions, green peppers, tomato, medium spiced & fresh coriander
Medium
£9.95
Bhuna Chicken Tikka
Cooked with onions, green peppers, tomato, medium spiced & fresh coriander
Medium
£6.25
Bhuna Lamb Tikka
Cooked with onions, green peppers, tomato, medium spiced & fresh coriander
Medium
£6.25
Bhuna Tandoori Chicken (Hot)
Cooked with onions, green peppers, tomato, medium spiced & fresh coriander
Medium
£6.25
Bhuna Fish (Boneless)
Cooked with onions, green peppers, tomato, medium spiced & fresh coriander
Medium
£9.95
Saag Chicken
With spinach
£5.95
Saag King Prawn
With spinach
£9.95
Saag Vegetable
With spinach
£4.95
Saag Chicken Tikka
With spinach
£6.95
Saag Lamb Tikka
With spinach
£6.95
Balti Vegetable
All dishes are served with naan bread
£6.95
Balti Chicken
All dishes are served with naan bread
£7.95
Balti Prawn
All dishes are served with naan bread
£7.95
Balti Lamb
All dishes are served with naan bread
£8.95
Balti Chicken Tikka
All dishes are served with naan bread
£9.95
Balti Lamb Tikka
All dishes are served with naan bread
£9.95
Balti King Prawn
All dishes are served with naan bread
£10.95
Balti Taal Mix
All dishes are served with naan bread
£10.95
Aloo Paratha
Spicy hot with garlic
£2.95
Garlic Rice
Contains nuts
£2.65
Coconut Rice
Contains nuts
£2.65
Ceylon Chicken
Cooked with chilli, coconut powder & thick sauce
£6.25
Ceylon Lamb
Cooked with chilli, coconut powder & thick sauce
£6.95
Ceylon Prawn
Cooked with chilli, coconut powder & thick sauce
£6.95
Ceylon Vegetable
Cooked with chilli, coconut powder & thick sauce
£5.50
Ceylon King Prawn
Cooked with chilli, coconut powder & thick sauce
£9.95
Ceylon Chicken Tikka
Cooked with chilli, coconut powder & thick sauce
£7.95
Ceylon Lamb Tikka
Cooked with chilli, coconut powder & thick sauce
£7.95
Korma Chicken
Mild creamy sauce
Contains nuts
£5.95
Korma Lamb
Mild creamy sauce
Contains nuts
£5.95
Korma Prawn
Mild creamy sauce
Contains nuts
£5.95
Korma Vegetable
Mild creamy sauce
Contains nuts
£5.15
Korma King Prawn
Mild creamy sauce
Contains nuts
£10.15
Korma Chicken Tikka
Mild creamy sauce
Contains nuts
£6.95
Korma Tandoori Chicken
Mild creamy sauce
Contains nuts
£5.95
Pathia Vegetable
Hot, sweet & sour, served with a naan bread
Indian & Chinese fusion curry
£6.95
Pathia Chicken
Hot, sweet & sour, served with a naan bread
Indian & Chinese fusion curry
£7.95
Pathia Prawn
Hot, sweet & sour, served with a naan bread
Indian & Chinese fusion curry
£7.95
Pathia Lamb
Hot, sweet & sour, served with a naan bread
Indian & Chinese fusion curry
£7.95
Pathia Chicken Tikka
Hot, sweet & sour, served with a naan bread
Indian & Chinese fusion curry
£7.95
Pathia Lamb Tikka
Hot, sweet & sour, served with a naan bread
Indian & Chinese fusion curry
£7.95
Pathia King Prawn
Hot, sweet & sour, served with a naan bread
Indian & Chinese fusion curry
£9.95
Contact Us
Find Us
58 Silverweed Road, Walderslade, ME50QX
We deliver to
ME1, ME4, ME5, ME7, ME8